Autumn is the perfect time to recommit to a walking program and to add poles to that plain vanilla walk you're doing.   The cooler weather motivates us to go outdoors, the beginning of a new school year invites us to try something new, and our friends are no longer leaving town for their cabin every weekend.
We had 18 walkers last Tuesday at Centennial Lakes.  The biggest group that we've had for weeks and we had several new walkers.  Some of them were from an intro class I did last week, some came with a friend and some came simply because they had promised themselves that this was something they were going to try and as time slipped away they came to do it before the snow falls.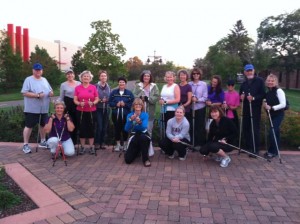 So how about you?  Is this the right time to finally try Nordic Walking and have something new to do going into the winter?  Nordic walking is the best way to keep walking all through the cold weather.  The poles will help keep you on your feet when the trail gets slippery, you'll warm up quickly when it's chilly, and it's easy to add a light weight glove with the LEKI strap or the Exerstrider grip.      (I recommend a Nordic ski glove vs a heavy insulated one)
So don't let old man winter keep you indoors this year.  Grab some poles and get out there!  There's still walks coming up and when it gets real cold we'll add some early Saturday morning walks at Ridgedale Center.