There are many options for quality Nordic walking poles.  Keep in mind that equipment is designed for specific purposes and you are looking for a Nordic walking pole not a hiking pole or ski pole.  It really does make a difference.  See my post on the differences in poles for more information.
Be prepared to spend $100-$200 for a pair of Nordic Walking poles.  You want to make sure you have a pole that is safe to use, includes a good rubber tip, comfortable strap, has warranty and replaceable parts.  This is an investment in equipment that should serve you well for years to come.  Make a good decision now.
I sell both LEKI and Exerstrider poles.  Please contact me if you're interested in purchasing and I can help you make the best decision for you based on your walking style and budget.
LEKI Nordic Walking poles –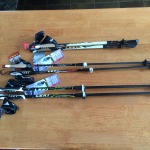 SPIN – fully adjustable high strength aluminum pole, features LEKI's Trigger Shark grip and strap system and the SpeedLock adjustment  $99.95
Instructor Lite SL2-The 2015 Instructor is a fully adjustable pole that combines high strength aluminum and 100% Carbon shafts for added stability and balance, Trigger Shark strap system and the next generation SpeedLock2 lock adjustment system.   $149.95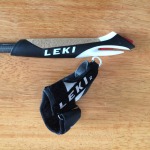 Traveller Carbon – 100% carbon adjustable pole collapses to 22 inches for easy travel.  Trigger 3 strap and Super Lock adjustment system.   $199.95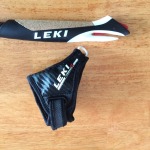 Exerstrider – OS2 fully adjustable aluminum poles, features ergonomically designed grips with no straps.  Your choice of blue, green or pink poles.  $89.99