There are many options for quality Nordic walking poles.  Keep in mind that equipment is designed for specific purposes and you are looking for a Nordic walking pole not a hiking pole or ski pole.  It really does make a difference.  See my post on the differences in poles for more information.
Be prepared to spend $100-$200 for a pair of Nordic Walking poles.  You want to make sure you have a pole that is safe to use, includes a quality rubber tip, comfortable strap, has warranty and replaceable parts.  This is an investment in equipment that should serve you well for years to come.  Make a good decision now.
There really isn't a "beginner" or "advanced" performing pole.  You will receive all the benefits of Nordic Walking from any of the poles recommended below.  I use LEKI and Exerstrider exclusively in all of my programs and truly believe that they are the best poles available.
It's difficult to find Nordic walking poles being sold in local retail shops.  Many shops will carry hiking or trekking poles but we know there is a difference and so you will most probably end up surfing the internet to find your poles.
I sell both LEKI and Exerstrider poles.  Please contact me if you're interested in purchasing and I can help you make the best decision for you based on your walking style and budget. You can also order on line at www.LEKI.com for all LEKI poles and www.walkingpoles.com for all Exerstrider poles.
LEKI Nordic Walking poles –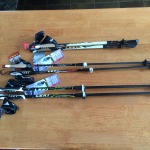 SPIN – fully adjustable high strength aluminum pole, features LEKI's Trigger Shark grip and strap system and the SpeedLock adjustment  $99.95
Instructor Lite SL2-The 2015 Instructor is a fully adjustable pole that combines high strength aluminum and 100% Carbon shafts for added stability and balance, Trigger Shark strap system and the next generation SpeedLock2 lock adjustment system.   $149.95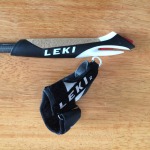 Traveller Carbon – 100% carbon adjustable pole collapses to 22 inches for easy travel.  Trigger 3 strap and Super Lock adjustment system.   $199.95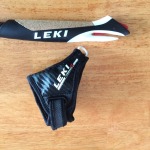 Exerstrider – OS2 fully adjustable aluminum poles, features ergonomically designed grips with no straps.  Your choice of blue, green or pink poles.  $89.99