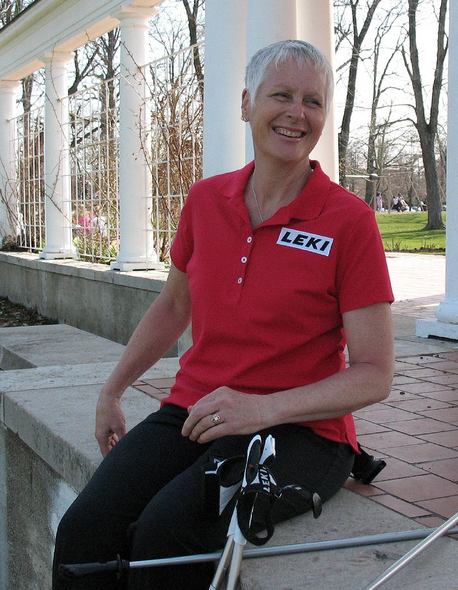 My name is Linda Lemke, known in the Twin Cities and beyond as the Nordic Walking Queen. I've been in the outdoor recreation industry for more than 25 years, specializing in womens and childrens activities.
As an Outdoor Recreation Specialist I've been inviting folks to come outside and play for four decades. I have BS in Recreation from the University of Utah and as a PSIA Level II Certified Alpine Instructor and am a passionate advocate for a healthy outdoor lifestyle.
As a Family Daycare Provider for sixteen years, I introduced over 150 children to the wonders of the natural world, venturing outdoors everyday, even during cold Minnesota winters.
I am a firm believer that participating in outdoor activities contributes to overall physical, mental, and emotional health. A fitness walker since 1984, I was immediately attracted to Nordic Walking. I became a Nordic Walk Now Team Trainer in 2006 and have introduced more than 3,000 individuals, one walker at a time, to Nordic Walking through the HOW program at Hoigaards, Community Education classes, Corporate Health and Wellness events and special community programs. I recently relocated to the St Cloud, MN area and am enjoying expanding the kingdom of the Nordic Walking Queen.
I was featured on the CBS Early Show with LEKI Nordic Walking! You can see me in action on the LEKI website at https://www.youtube.com/watch?v=oyWOPHhSxWY
Background:
Nordic Walk Now Team Trainer; 2006-present
Hoigaard's Outdoor Women Program Director; 2006 – 2014
Nordic Walking Clinics and Events; 2005 – present
Salomon Envoyee; 2005 – 2008
Buck Ski School Programs Supervisor; 1997 – 2011
Women and Children Outdoor Recreation Advisor (Hoigaard's); 1997 – 2014
Blizzard Ski School Instructor and Program Director; 1986 – 2010
International Wolf Center Board of Directors; 2006 – 2012
Education & Certifications:
Nordic Walk Now Instructor and Team Trainer
Exerstrider Certified Instructor
ANWA Certified Nordic Walking Instructor
PSIA Level II Alpine Ski Instructor
PSIA Children's Instruction Accredited
Licensed Family Daycare Provider; 1981 – 1997
B. S. Recreation, University of Utah