It's the dark days of winter and the Dark Days Challenge is on again this year.  My daughter Laura started it a few years ago, challenging all of us to cook one completely local meal each week during the winter.  Being her mom and responsible raising her on the family "gentleman's farm" as her grandpa called it, complete with garden chores and fresh meals from the land, I couldn't resist taking on the challenge.
The good news for me is that I am in Minnesota.  Even tho the ground is white and frozen right now we still have a family garden, raise both layer and broiler chickens, and live in the middle of dairy and wheat country.  I don't have to worry about finding local butter, grains and cheese.  My meals are pretty simple, and even during the rest of the week I cook with mostly local and organic ingredients.  Just like going outdoors everyday, it's a lifestyle choice and one that fits well for me.
To kick off the Challenge this year we are trying to finish up our pig from last year.  Amazing that we still have pork chops and bacon in the bottom of the freezer. Dan cooked the chops on the grill, enhanced with minced garlic from the garden while I roasted potatoes, onions and brussle sprouts in the oven.  We finished them with a quick sauté in bacon fat with bacon crumbles, yum, everything is better with bacon.  The plate was finished with slices of Minnesota honey crisp apples from Minnetonka Orchards.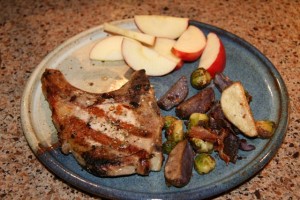 Simple, delicious and quick to do at the end of a long day on the retail floor.  Did I mention that Dan is diabetic?  That's the other part of my challenge.  Anyone else working with dietary restrictions I'd love to hear from you.
Now you know what I cooked, what did you do to get outdoors today?