Dan and I are in Washington, our annual fall visit with our daughter Laura and her husband Mike.  Our tradition is to come in a day early and enjoy a bit of sight seeing in the area.  We've had lots of adventures including Mt Rainier this past Memorial Day weekend.  It was opening weekend for Paradise Inn and it was still snowing.  We were only there for about 48 hours but we never saw the mountain for the clouds.  This time we were lucky and enjoyed Mt Rainier out in all it's glory!
We stayed at the historic National Park Inn, Paradise was closed for the season.  It was quiet in the park, that inbetween season when fall is over and winter has yet to arrive.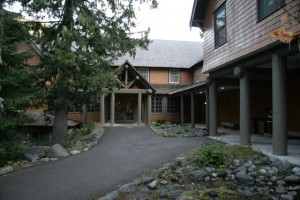 We slept beneath Mt Rainier glowing with the full moon.  In the morning we enjoyed a 5 mile hike up through the forest to the ridge with a view of the mountain and back down again.  We shared the trail with birds and two young deer at the top of the ridge but no other hikers.  The peace, solitude and tranquility of the old forest.  If you walk quiet, look and listen to the old life around you it has the power to transform you.  I walked off the stress and drain of the past month of hard work and emerged from the forest renewed and reconnected.
We did make it up to Paradise.  Snow covered the trails, the Inn is closed and boarded up for the season (I wonder who dances in the ball rooms when it snows?)  but Mt Rainier was beautiful and inspiring.  We did a short hike to get the right view of Myrtle Falls and left a prayer for a safe season at the foot of the mountain.