I've been walking with women.  That's not unusual as most of the people I walk with are women.  Seems that women are not afraid to be seen walking with poles even when there is no snow.  But seriously, I love walking with women and count it as one of the blessings I've received from Nordic walking.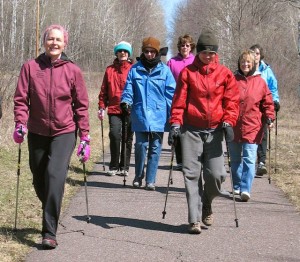 There's grace in walking with older women.  We walk a little slower, we share our stories, time slows down.  They find themselves standing a little taller, I let myself relax and enjoy the moment.  We both find balance.
I turn 60 next month.  I've been struggling with what that really means to me.  Since walking with women who have 20 years of life experiences on me, it's all coming into perspective.  Turning 60 means being able to live in the moment so you don't miss it.  And don't be afraid to try something new!