I've just returned from guiding 6 women into the BWCA, Boundary Waters Canoe Area, on a five day wilderness canoe trip.  If you've never been to the BWCA you don't know what it's like to have the quiet broken only by the call of the loon.  The air smells so fresh, the water is so clean, the woods are so deep.
It's really a magical place.  One where you can take the time to find yourself again.  You carry everything with you in the canoe and depend on the group to work and play well together.   Once the hard work of getting there and loading up is done we all settled into the rhythm of the paddling as we got to know each other.  It was a very good.
Pink was our color and we were the only women's trip in the area.  We really were awesome!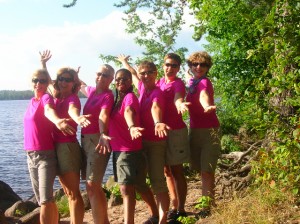 Anne made up a poem for us
Women in The Wild
Pink Shirts Shine Bright
HOW Chicks Rock!