Heart Disease is the number one killer of women.  We have the power to turn that around with education and exercise.  That's what Women on the Move, a program through the Minneapolis Heart Institute Foundation is all about.  It's an 8 week training program for women that ends with everyone participating in the Heart of Summer 5K on July 23.
I've done a presentation on Nordic Walking for the group the past 3 years and this year Nordic Walking was one of the choices for training, along with walking, walk to run and running.  There are over 100 women signed up for the program and the Nordic Walking group grew every week with women taking the opportunity to try the poles.  We had converts from all the other groups, some looking for more of a work out, some looking for relief from the pounding effects of the running, and many simply curious about what the poles offered.  No one was disappointed.  It's been lots of fun!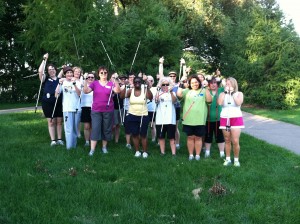 That's what it should be, fun to make life changes that improve your overall health and lead to changing the devastating effects of heart disease on women.  I'm looking forward to celebrating with all of my new friends next Saturday.  Perhaps you'll consider joining us with your poles! It would be wonderful to have a really big group of Nordic Walkers and remember, all funds raised from the 5K stay right here in Minnesota.