On a balmy Wednesday I had the pleasure of walking with a group from the Pedal and Roll for Parkinsons.  Liz, their fearless leader, has recently been introduced to Nordic Walking and wanted to share it with all of her friends.
The paths were slippery so we walked in the snow. The poles added stability and balance even on the uneven ground and wintery conditions.
We walked around the park for almost an hour.  I'm excited to say that they are changing their name to include Nordic Walking.  Watch for the Pedal and St-Roll or perhaps Pedal and Pole on September 22, 2012 at Cleary Lake Regional Park.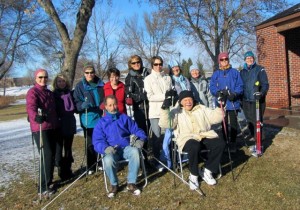 Thank you Liz and everyone for a very inspiring afternoon!  I look forward to walking many miles with you along the way.