Saturday morning we drove down to Bozeman, I said goodbye to Dan and then Meta and I went to run the errands for trip.  Our list included a new cast for her wrist (yes she's going skiing with a broken wrist and yes it was suddenly too tight!) grocery store, and liquor store.  We worked our way through the list, filled up the car with gas and goodies, and stopped for a sandwich at the Pickle Barrel for a late lunch.
We left Bozeman at 5:55am Saturday morning all set for our adventure!   We dropped off the freeway in Casper WY and headed south to come into Vail through the back door. There were snow fences that had trapped huge waves of snow, wind turbines as far as you could see, antelope, deer, and newborn calves in the fields along the way but the highlight was a group of horses running up a ridge with an eagle leading the way!  (think John Denver, "Eagles and Horses")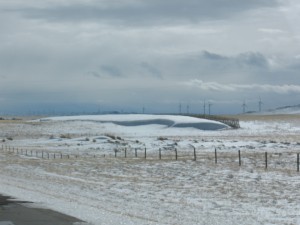 HOW has landed at Beaver Creek.  After 13 hours on the road, ending with a snowstorm drive over Vail Pass we met up with the other Sunday arrival for dinner at Coyote Grill. just what I needed!
Today, day 15 was a blue bird day on the mountain. I've never been here before so it was lots of fun to explore this beautiful place.  Now it's time for our traditional pasta bar, don't you wish you were sitting here with a glass of wine?