It was steep and deep yesterday at Moonlight Basin!  After almost a foot of new snow in the past 48 hours and just enough wind to fill in the tracks it was a great day to be out.
The best thing about Moonlight is that even tho it was a Holiday Monday there weren't any crowds there.  Surely there were more than a typical weekend day but it still feels like you have the mountain to yourself when you choose one of the gladed tree runs or do a short climb up into Horseshoe Bowl.  Even at 3pm we had fresh tracks down the bowl. Awesome!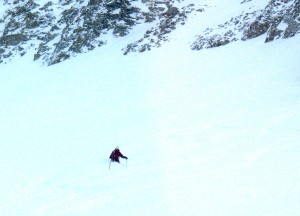 Dan hit an embankment on Sunday and has hurt his ribs so he wasn't with us yesterday.  bummer.  Just not the same without him on the hills.  Hopefully he'll be good to go when he gets back from doing business in Mpls.  He'll be gone til late Thursday.  Price you pay when clients want your attention.